Thursday, June 5, 2014
Bizzare: Ghanian witch doctor claims to be responsible for Cristiano Ronaldo's injuries
Posted by

wasaafrica
at 12:30 AM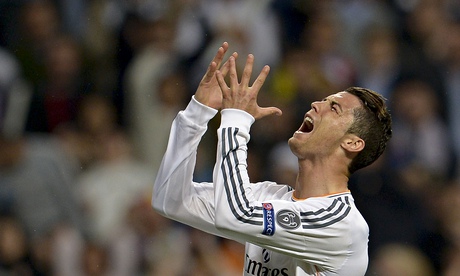 A prominent
Ghanaian
witch doctor has claimed to be the sole cause of Cristiano Ronaldo's recent injuries. Nana Kwaku Bonsam whose name translates literally as "Devil of Wednesday" predicted in February that the Portuguese striker will be forced to miss the World Cup due to injures and he has come forth to claim his predictions.
The Portuguese FA released a statement on Wednesday confirming that Ronaldo is suffering from a tendinosis in his left knee and he is also recovering from a muscle problem in his left thigh which led to him missing out of his nation's friendly against Greece over the weekend.
Bonsam claims to have conjured a special powder from his gods which consist of various leaves and other concoctions which he placed around images and caricatures of the Real Madrid forward.
Speaking in an interview with Kumasi-based Angel FM, the spiritual doctor who serves at the Kofioo Kofi shrine said: " I know what Cristiano Ronaldo's injury is about, I'm working on him"
"I am very serious about it. Last week, I went around looking for four dogs and I got them to be used in manufacturing a special spirit called Kahwiri Kapam"
"I said it four months ago that I will work on Cristiano Ronaldo seriously and rule him out of the World Cup or at least prevent him from playing against Ghana and the best thing I can do is to keep him out through injury.
This injury can never be cured by any medic, they can never see what is causing the injury because it is spiritual.
Today, it is his knee, tomorrow, it is his thigh, next day it is something else."
Ghana are set to meet with Portugal in their final match in their Group G in Brasilia on June 26.
Wow, African magic in action, :)