Monday, June 2, 2014
Labels: WorldCup
FIFA faces call to rerun 2022 Qatar World Cup vote again
Posted by

wasaafrica
at 3:55 PM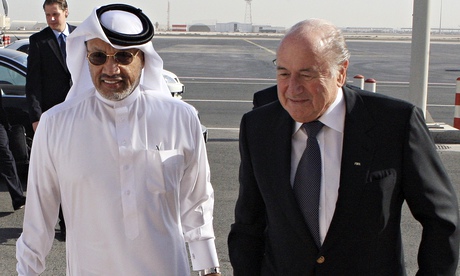 In the face of new allegations, FIFA faces calls to rerun the bidding competition for the 2022 World Cup after allegations that former top Qatar football official paid about $5m to win support for the nation's campaign to host the World event.
Qatar
has also come under fire for its labor laws, in the wake of an international outcry over conditions for migrant workers before the 2022 WC, the revelations were made by Guardian investigation which focused on workplace abuse in the Gulf State.
Labor is insisting that
Qatar
should relinquish their rights to host the 2022 edition of the World Cup and also asked that all those involved in the FIFA corruption allegations should resign if the information detailed in Sunday Times are all true.
The chairman of the Football Association has called for Qatar to be stripped of the World Cup if it is proven that the Gulf state's top football official paid millions of dollars to African counterparts in the run up to the vote.
Greg Dyke said that if the process of awarding the World Cup in 2022 was "corrupt", it had to be "looked at again".
He spoke out after the discovery of emails showing that hundreds of thousands of dollars were channelled to dozens of African football officials before and after the votes for the 2018 and 2022 World Cups.
His call was echoed by one of FIFA's vice-presidents.
Jim Boyce, who sits as Northern Ireland's member on the FIFA executive committee — the body responsible for awarding the World Cup — said he would be in
favor
of re-running the vote if the allegations, published in The Sunday Times, were proven by an independent FIFA report.
The Sunday Times revealed that they had obtained millions of emails and other documents relating to alleged payments made by Mohammed bin Hammam, the then FIFA Executive member for Qatar. Mohammed Bin Hammam, the former president of the Asian Football Confederation, is accused of masterminding the Qatari bid, and showering gifts and money on football officials around the world. He has been accused of channeling tens of thousands of pounds to the presidents of small football body's in Africa and other countries.
The fresh allegations came less than two weeks before the start of the World Cup in Brazil, investigations process is being carried out by FIFA's independent ethics prosecutors Micheal Garcia.