Thursday, May 8, 2014
The Gambia Sports Minister replaces GFF committee over CAF disqualification.
Posted by

wasaafrica
at 5:27 PM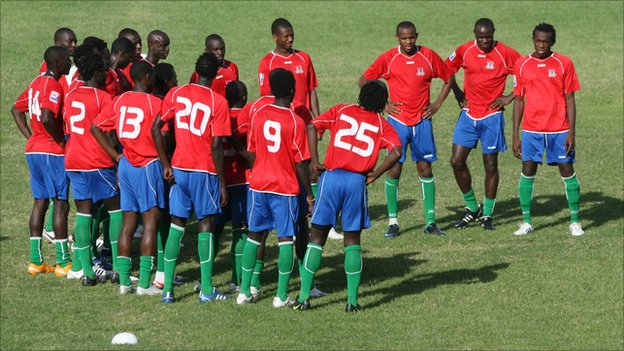 The Gambia's Minister of Youth and Sports Alieu K Jammeh has replaced the country's Football Association committee members following their recent CAF suspension.
Mr. Jammeh citing powers vested on him by the National Sports Council Act unveiled a brand new 5-member committee to run the Gambia Football Federation. The new committee members will replace the old committee members and they include Lamin Sanneh, Permanent Secretary at the Ministry of Lands and former governor of West Coast Region Ba Jabbi, Famara Colley, Haddy Sillah and Malick Mbye.
The Sports minister announced that their "suspension" was due to their
inability
to fulfill their duties and obligation, the now former committee were elected as members of the GFF on July 31
st
2013.
CAF recently disqualified The Gambia FA from participating in all of CAF's competition, in other words, most competition within Africa for 2 years after being found guilty of age fraud.
CAF's Executive Committee imposed the 2-year ban on the Gambia Football Associaiton from all its competitions after the body was found guilty of using ineligible players in the African U-20 Championship qualifiers. Speaking on the suspension, the committee said the decision was in line with Article 37. p 1 of the regulations of the African U-20 Championship which states that "for any deliberate intention to foul or cheat in any matter involving the falsification of documents, the defaulting association shall be suspended for two years from all of CAF's competitions.
The Gambia U-20 were disqualified from the competition by the organizing committee for the African U-20 Championship on April 20 for using five overage players against Liberia on April 6, 2014. Ali Sowe was one of the concerned players, his earlier registration with CAF shows he was born on October 4, 1988, but his recent passport for the ongoing competition shows his date of birth as June 14, 1994.