Tuesday, February 25, 2014
Football's first professional black player Arthur Wharton honoureed at Rotherham Stadium.
Posted by

wasaafrica
at 11:12 PM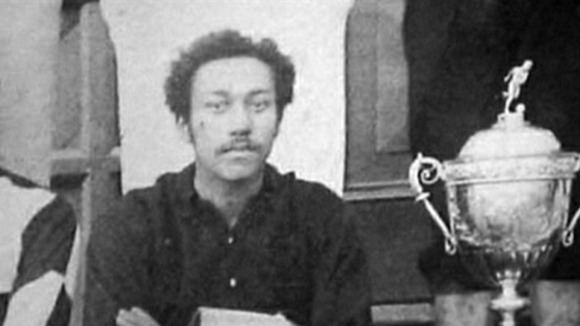 Arthur Wharton played for Rotherham Town and Sheffield United and he was commemorated with a statue in South Yorkshire. The Arthur Wharton Tribute project was launched at Rotherham United's New York Stadium where the statue will be created.
The statue will mark the achievements of a remarkable man who paved the way and pioneered a heritage for black footballers around the world.
2014 marks the 125th anniversary signing for Rotherham in 1889 to become the first black professional footballer.
Wharton was born in 1865 in Jamestown, Gold Coast (now known as Ghana), West Africa. During a carrer period which lasted from 1886-1902, he played for Rotherham Town and Sheffield United among other teams.
The guests at the launch were joined by football legend Cyrille Regis, former England international and FA Cup winner, plus Manchester United and European Cup winner Alex Stepney who are supporting the project. The privately led and financed project which has the support of Rotherham United Football Club and Rotherham Metropolitan Borough Council as well as football players and administrators throughout the country plans to engage the support of Rotherham United and the local business community in the area to be actively involved in the project.
As Jim Cadman explained
: "This year we celebrate the 125th anniversary for football when Arthur Wharton signed for Rotherham to become the world's first black professional footballers
"

Along with Graham I decided that we should mark such an occasion and it seemed only fitting that the tribute be in Rotherham itself, particularly as his family still live in the area. 
"We were delighted to have Arthur Wharton's granddaughter Sheila Leeson and great granddaughter, Dorothy Rooney with us.
"

We know that the project will attract interest from football fans and players all over the world and will bring a positive national focus on the Town and the football club."