Monday, April 22, 2013
Luis Suarez future with Liverpool in Jeopardy even after apologizing for his actions
Posted by

wasaafrica
at 3:07 AM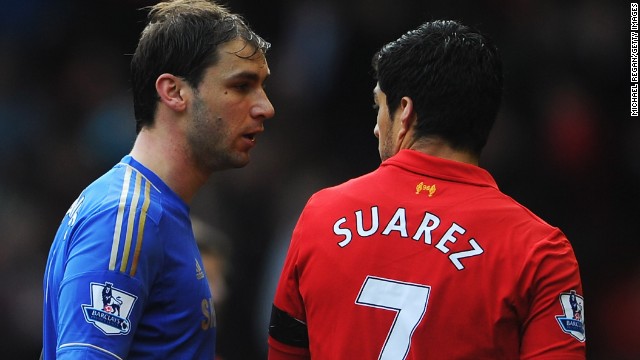 Well, even after his groveling apology, it seems an "I sorry" statement will not get the Uruguayan striker out of this one. Liverpool are under mounting pressure to kick out Luis Suarez after he bit Branislav Ivanovic in his side's 2-2 draw against Chelsea.
Brendan Rodgers has told Luis Suárez that no player is irreplaceable after the Liverpool striker disgraced himself by sinking his teeth into Branislav Ivanovic during Chelsea's 2-2 draw at Anfield.

Rodgers, who initially refused to comment on the situation, said in a statement: 'Having reviewed the video footage and spoken to Luis, his behaviour is unacceptable and I have made him aware of this.'
The incident, which will be studied by the FA, overshadowed an intriguing game and marred an emotional return to Anfield for interim Chelsea manager Rafa Benitez. He refused to comment about the bite.
Needless to say, the Liverpool's striker future is in doubt after he bit the Chelsea defender's arm as the pair tussled for possession in front of the Kop goal. The referee, Kevin Friend, missed the incident and Suárez was able to remain on the pitch to score the 97th-minute equalizer that prevented Chelsea reclaiming third place in the Premier League. He is, however, expected to be charged by the Football Association and could receive a lengthy ban.