Sunday, March 31, 2013
Do you believe in miracles? Meet Jake Olseen the inspirational golfer
Posted by

wasaafrica
at 5:02 PM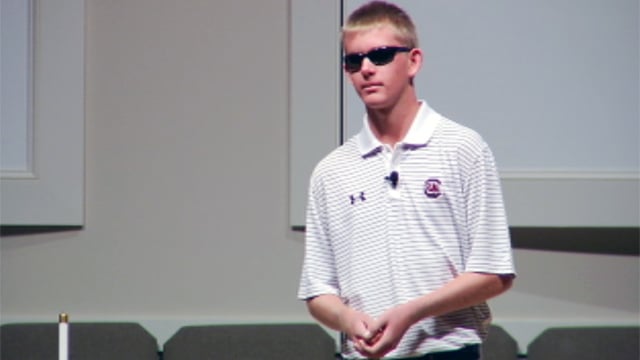 The story of Jake Olson, the USC super fan who has been a constant source of inspiration for his Fight On spirit despite losing both his eyes to cancer has been in the news since early 2009, however, Olson continues to shine bright
a midst
several obstacles.
Jake Olson is a teenager from Huntington Beach, California, who lost his sight when he was young, but against incredible odds, never lost sight of his dream to become a professional golfer.
Jake Olson like most teenagers enjoys playing putt-putt golf, he wants to finish first when he's zipping around a go-cart track, but there is one difference - he's blind.
LITERALLY people who have 20/20 vision find it hard hitting a golf ball, but 15-year old Jake showed the Upstate of South Carolina you don't have to actually see the ball when you're living by faith.
Jake lost sight in one eye to cancer before he turned one, yet he never slowed down and continued to battle cancer, returning eight separate times. In Nov. 2009, another operation was needed that would take his sight entirely.
"I can sit here being blind and complain about being blind and say all the things why me?" said Jake. "Why did I have to go through this? Why did I have to lose my sight? And sit there all day in bed and pout. But, I started thinking to myself, where is that going to get me in life? What am I going to achieve by doing that?"-these were questions Jake found himself asking.
Well, the answer-right before Jake lost his eyesight, he practiced golf with his eyes closed, knowing that darkness would soon be his reality.
Although this is not a particularly easy task, however, through a lot of hard work and perseverance, he's moving forward with his goal of becoming the first blind golfer on the PGA tour.
"I decided to work hard, stick with the game of golf, and what comes out of it comes out of it," said Jake. "And right now I'm hitting it better than I was with sight."
Right now, Jake shoots in the low 80s.
Aside from golf, Jake is a devout Christian, surfs, plays the guitar, and is an "A" student. He has written a book and has a foundation called "Out of sight faith" that helps younger people.
Really encouraging, and inspirational-Happy Easter all!!!