Monday, February 18, 2013
And the award for the most outrageous hairstyle from the just concluded AFCON goes to..........
Posted by

wasaafrica
at 10:53 AM
Since the 2013 AFCON tournament is over and done with, one way to mull over some of the amazing moments is to take a look at some of the most outrageous hairdos from the 29
th
edition of the tournament.
I must admit, this was fun to look at, while some of the stars simply wanted to have fun, it seems they just wanted to make a fashion statement.
8.
Cote d'Ivoire's Gervinho and Didier Drogba, between these two it's almost hard to tell who uses more hair product, I'm guessing Drogba.
7

. Togo's Emmanuel Adebayor and Amewou komlan adding a new twist to Mohawk haircuts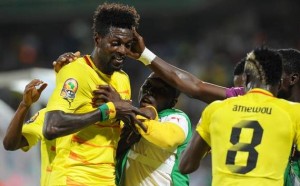 6.

Burkina Faso's Paul Koulibaly's, this was quite interesting, not too crazy, yet, a lil weird.
4.
Ghana's Asamoah Gyan taking it a little further with his jersey No. 3 on his head.
3

.

Ghana's Isaac Vorsah decided to go heavy on the colors
2

.

Burkina Faso's Aristide Bance, very interesting look for the 28-year-old forward
1

.

Congo keeper Robert Kidiaba takes the award for the most outrageous hairdo, this one is hard to explain.