Monday, January 28, 2013
Hosts South Africa and Nations Cup debutant both secure a place in the quarterfinals of the Nations Cup
Posted by

wasaafrica
at 3:55 AM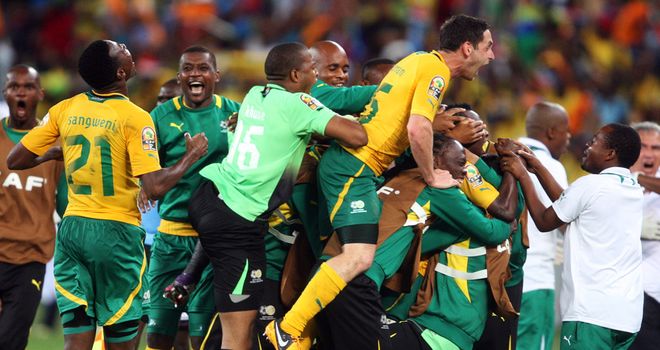 South Africa 2-2 Morocco
South Africa are on their way to the quarter finals after a very dramatic 2-2 draw with Morocco in Durban where Bafana Bafana sent the North African team out of the competition.
Host nation South Africa fought back twice; it was goal for goal in the very tense game as Morocco's Issam El Adoua scored the first goal in the game, however, South Africa's May Mahlangu returned the favor in the 71st minute making it a 1-1 game. Knowing a win would get them ahead, Morocco struck another goal, but a late equalizer from Siyabonga Sangweni will see South Africa to the quarterfinals while Morocco were knocked out of the competition once Cape Verde beat Angola 2-1.
Cape Verde 2-1 Angola
Cape Verde made an historic passage to the Africa Cup of Nations quarter-finals after a stunning 2-1 victory over Angola in their final Group A match in Port Elizabeth on Sunday.
Angola took the lead in the first-half of the game through Nando's goal, however, Nations Cup debutants Cape Verde made their way back with only 9 minutes left in the game when defender Varela Fernando scored from a close range. Substitute Heldon Nhuck's goal in the 90th minute help the Blue Sharks secure second place in Group A behind South Africa.