Monday, October 15, 2012
African Cup of Nations:Sunday qualifiers.
Posted by

wasaafrica
at 3:44 AM
It was another crucial day filled with shocking moments as some unexpected and expected results were recorded in Sundays second-leg final-round ties of 2013 African Cup of Nations qualifiers.
Cameroon 2-1 Cape Verde (Agg: 2-3)
Cameroon welcomed back four-time African Footballer of the year Samuel Eto'o Fils all in the hope of overturning a 2-0 deficit at home to Cape Verde, however, Cameroon were knocked out despite their victory in Yaounde. Cape Verde won in their first meeting, and following in the same speed, just 22 minutes into the game, Portuguese-based striker Heldon scored with a free-kick, but only minutes later, Cameroon's Achille Emana leveled the score and 4 minutes to stoppage time, Fabrice Olinga doubled the score for his country but they needed at least 2 more goals to overturn the aggregate deficit. Cape Verde got a ticket to the 2013 African Cup of Nations following Cameroons inability to overturn the aggregate deficit.
Angola 2-0 Zimbabwe (Agg: 3-3)
Following their 3-1 defeat in the first leg of the qualifiers, Angola had a good comeback in the second leg of their tie. Just 6 minutes into the game, striker Manucho scored twice to draw Angola level on aggregate. Angola will be going through to 2013 AFCON on away goals rules.
Ethiopia 2-0 Sudan (Agg: 5-5)
For the first time in 30 years, the Black Lions of Ethiopia will have the chance to represent their country at the 2013 AFCON in South Africa. Following Sudan's 5-3 win in their first meeting, it was goals from Ethiopia's Adane Girma and Saladin Seid that gave the Black Lions a chance to represent their country after such a long time, Ethiopia are going through on away goal rules.
Niger 2-0 Guinea (Agg: 2-1)
Goals from Mohamed Chikoto and a late goal from Boubacar Issoufou in the tail end of the game helped Niger secure their second Nations Cup qualification.
Togo 2-1 Gabon (Agg: 3-2)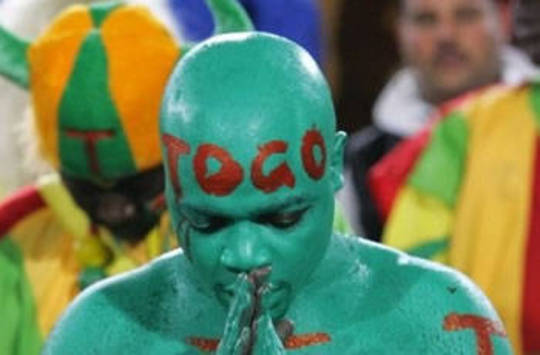 Togo and Gabon almost had a tight match just like their first encounter where both teams ended up with 1 goal apiece. But this time around, Togo took the lead when Wome Dove scored the first goal and Tottenham striker Adebayor doubled the lead for his country and even with a late goal from Gabon's Pierre Aubameyang, Togo held on till the end earning them a ticket for 2013 AFCON
Equatorial Guinea 2-1 DR Congo (Agg: 2-5)
With a very impressive 4-0 win from the first leg of the qualification, DR Congo almost lost their chance as Equatorial Guinea came back in the second leg, attempting to regain control,Equatorial Guinea's Javier Balboa opened the scoring after 23 minutes and then Ben Konate added a second goal 12 minutes later, however Youssouf Mulumbu scored just before half-time giving DR Congo a 5-2 aggregate lead and a ticket to 2013 AFCON.
Burkina Faso 3-1 Central African Republic (3-2)
It is always better late than never as Burkina Faso came back at the end of the second half to claim their ticket to South Africa with a late goal from Alain Traore who scored his second and crucial goal late into stoppage time. Earlier on in the game, Central African Republic were in the lead, but then Alain Traore scored his first goal for his team and just a few seconds before half-time, Central African Republic made it 2-2 on aggregate when Moumouni Dagano converted a penalty but they still fell as they needed 2 goals more to stop Burkina Faso from getting the ticket.
Algeria 2-0 Libya (3-0)
Algeria will be joining host South Africa as the 15th team to qualify for 2013 AFCON. Following their victory in the first leg which gave them a 2-0 aggregate, Algeria's Arbi Soudani scored just four minutes into the second leg of the qualfiers and shortly after his goal, Islam Slimini doubled their lead, but even with various attempts from Libya way into stoppage time, they were unable to keep up in the race.