Wednesday, April 16, 2014
Oscar Pistorius reads Valentine's Day card from the stand
Posted by

wasaafrica
at 12:08 AM
South African Olympian Oscar Pistorius spent only 9 minutes in the stand today before his lawyer released him from 5 days of agonizing days of cross examination. The 27-year-old athlete left the stand today with a heartbreaking Valentine's day card that his murdered girlfriend Reeva Steenkamp left behind on the day she was shot to death by Pistorius. Invited by his defense lawyer Barry Roux in hopes that the card mend will some of the effects the cross examination has left on him, Pistorius read out the card which was addressed to him by a nickname "Ossie" in a halting voice. The message reads "Roses are red, violets are blue, I think today is a good day to tell you that I love you" the 29-year-old model signed the card with her name and a smiley face.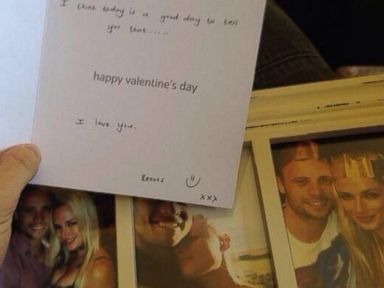 The Valentines Day card was a means of rebuilding the case for the defense after a nerve-racking cross-examination, Roux set out to create an image of a couple very much in love to counter the viscous image presented by the prosecution who claims Mr. Pistorius stomped around his darkened upscale home,
banishing
a cocked and loaded handgun while his girlfriend was in the bathroom in fear.
Prosecutor Gerrie Nel told the court previously that none of the text messages Steenkamp sent Pistorius ever included the phrase "I love you"
The Olympic medalist killed his girlfriend before dawn on Valentines Day 2013 when he fired through a locked bathroom door. He is charged with murder in Steenkamp's death. And if convicted, he could face up to 25 years to life in prison. Pistorius however maintains he mistook Steenkamp for an intruder.
Mr Nel's cross examination over the past few days often reduced Pistorius to tears as the prosecutor aimed at deflecting Pistorius claims. In his final summary of the prosecution's case, Nel told the court that Pistorius intentionally killed Steenkamp, he said "She was locked into the bathroom and you armed yourself with the sole purpose of shooting and killing her... and that what you did" Continuing he said, "Afterward, indeed, you were overcome by what you'd done, that is true. Only because you intentioned to kill her. You realized that"
Pistorius went ahead to deny the accusations, but Neil shot back- "you fired at Reeva"
In tears, Pistorius answered: " I did not fire at Reeva"
The Olympian insists that there was an intruder in his home that night even as Nel pressed further with his accusations, Pistorius said: "I believed that there was someone coming out to attack me"
Mr. Nel asked judge Masipa to postpone the hearing until May 5 at the start of Tuesday's session, starting with an unspecified later date for this week following how many South Africans are gearing up for a four-day Easter weekend break. The judge said she will rule on the request one Wednesday.