Tuesday, March 18, 2014
Mourinho believes Drogba is still one of Africa's best and is looking forward to a permanent return to Stamford Bridge
Posted by

wasaafrica
at 12:40 PM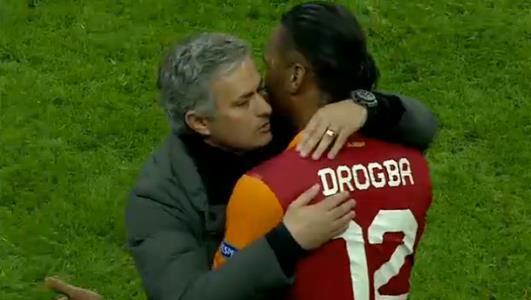 Ahead of Chelsea's game against Turkish side Galatasaray, Chelsea manager, Jose Mourinho has admitted that he is expecting former Chelsea star, Didier Drogba to make a comeback to Stamford Bridge permanently. Mourinho also believes the former Blues Didier Drogba is still one of the best strikers in the world.
The Galatasaray forward, who left Stamford Bridge in June 2012,
returns to London for Tuesday's second leg of their Champions League round of 16 tie.
Drogba's Galatasaray contract expires at the end of the seasson he already has offers to stay at the Turiksh side or move to Major League Soccer come the end of the season
In a recent interview Chelsea's boss Mourinho made the claims that Drogba is still the best player in Africa, speaking he said: "Is he (Drogba) the same player at 36 years old as he was at 26? Nobody is, but he is certainly still one of the best strikers in the world."
The Ivory Coast striker netted 157 goals in 342 appearances during an eight-year spell at Chelsea.
With his last kick for the club, he tucked away the decisive spot-kick in the penalty shoot-out at the end of 2012 Champions League final against Bayern Munich.
Before the start of the current season, Mourinho discussed Drogba's return with Chelsea, with a view to starting a coaching career, but the idea never came to fruition and it is still pending if Chelsea board will sanction a Drogba playing return at the end of the season
Mourinho however is ready to work with Drogba in any capacity again, he said:
"

Its not me, the important thing. Its Chelsea. I think it has to happen one day. When, I don't know"
"

As a player, as a coach, as an ambassador, next year, in four or five years, or 10 years, I don't know. But when a person represents so much to a club and the club represents so much to a person, as is the case, I think he has to be welcomed back."
"

We know he's a free agent and finishes his contract at the end of the season, but I don't think it's the right moment to think about it ahead of a big game. Undoubtedly, he's one of the most important players in the history of this club.
"That's not a doubt. We all, Chelsea supporters, agree with that. We don't say the most important one because it's not fair for other people who were in the same level or in the same generation. But, for sure, he was one of the most important players in the history of our club. Is he the same player at 36 that he was at 26? I think nobody is. But he's one of the best strikers in the world. That's for sure."