Friday, February 28, 2014
Chelsea vs. Galatasaray: Drogba plays against the Blues for the first time since his transer
Posted by

wasaafrica
at 4:06 AM
Its times like this that makes us remember that Drogba plays for Galatasaray (or whatever they are called :) ) rather for Chelsea.
The same man who won the Champions League for the Blues was playing against them on Wednesday and share special moments with Blues David Luiz, good times.
Although Jose Mourinho's side dominated the first half of the match, they still should have at least scored one more goal to hold onto their initial lead earlier in the game when Fernando Torres scored, however, the premier league leaders conceded to a sloppy equalizer as Aurelien Chedjou converted unmarked close range.
The BlueS Manager Mourinho made three changes to his side which managed to secure a late win against Everton over the weekend. In midfield Ramires came in for the ineligible Nemanja Matic, while fellow midfield John Mikel started on the bench, Schurrle was back in the start-up line for the first time since Chelsea's FA Cup win, Oscar on the other hand was dropped to the bench as Torres led the start up line of the Blues.
The Turkish champions went into the match on the back of a 16-game unbeaten streak at the Turk Telecom Arena and former Manchester City boss Manciin set up his team in a way that they managed to pul off a 1-1 draw against the English champions. Ivorian international started against the Blues for the very first time since his tranfer from Chelsea in 2012. Other popular names that made up the starting line-up include Felipe Melo, Wesley Sneijder and former Arsenal defender Emmanuel Eboue.
The Blues go into the return leg in a strong position despite having to settle for a 1-1 draw in the Turk Telekom Arena, after Fernando Torres's early opener was cancelled out by Aurelien Chedjou's leveller midway through the second half. As the final whistle sounded, Mourinho, while not ecstatic, will have been quietly satisfied with the result ahead of the return leg at Stamford Bridge.
Drogba in red may have seemed odd but stranger things are set to happen when the former Chelsea striker takes on his former side in Stamford Bridge.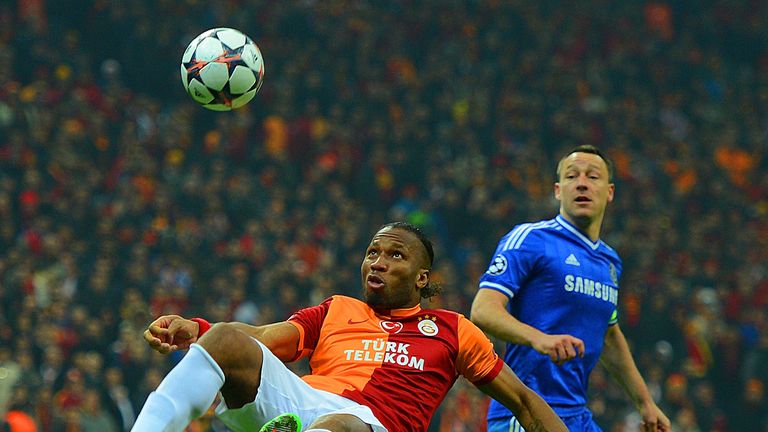 Caption this