Thursday, January 16, 2014
CHAN 2014: Super Eagles fly past Mozambique while hosts South Africa are held by Mali
Posted by

wasaafrica
at 12:40 AM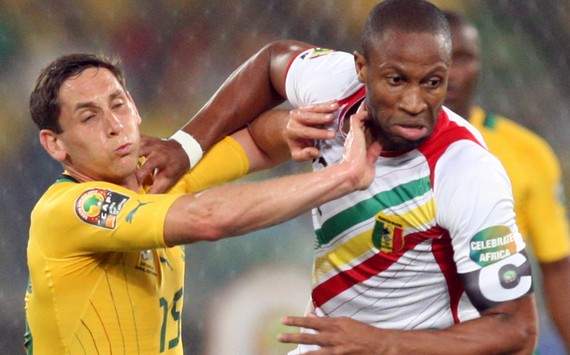 In the day's other game, Rabiu Ali scored twice as Nigeria beatMozambique 4-2 to knock the Os Mambas out of the tournament.
The ongoing African Nations Champions in South Africa took a more pleasant turn today as host South Africa were able to secure a 1-1 draw against Mali in their second Group A game. South Africa's Bernard Parker gave his side the lead with a controversial penalty in the first-half of the game which was held in Cape-Town. Returning the favor, Mali's Ibourahima Sidibe made it a 1-1 game just 9 minutes into the second-half of the game.
The second game of the day saw the Super Eagles of Nigeria fly past the Mambas of Mozambique with their 4-2 win in Cape Town Stadium on Wednesday night. The Eagle's win in many ways compromises South Africa and Mali in their Group A who drew 1-1 in their earlier game. =
The match witnessed a huge rush of goals, four in a frantic 10 minutes of the first half and two more in the second half. Barely 10 minutes into the first half, Mozambique's Dario Khan took the lead via a long range free kick. The Eagles of Nigeria had an instantaneous come back when Ifeanyi Ede slammed past Mozambique's defense. Two minutes later, Nigeria took the lead via Rabiu Ali goal. Now a very tight race, Mozambique equalized in the 19th minute when Diogo Alberto was delicately put through by Fernandes and courtesy a defensive mistake by Agbim. The Super Eagles then earned a penalty in the 53rd minute after the Guinea referee, Aboubacar Bangoura adjudged that the Mambas defender had handled in the box. Rabiu Ali made no mistake from the spot to make it 3-2.
Substitute Barnabas Imenger put the icing on the cake when another horrible clearance from the Mozambican defence fell into the path of the striker whose audacious lob gave Soares no chance to make it 4-2.