Saturday, December 7, 2013
Africa mourns Nelson Mandela: Tributes paid to the legendary South African leader
Posted by

wasaafrica
at 2:22 AM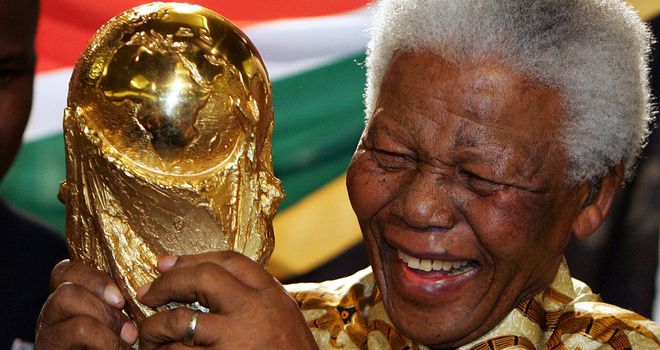 Nelson Mandela fondly known as Madiba played a pivotal role in the freedom of many today. The former South African leader who led a revolution against injustice from a prison cell conquered history by turning his back on violence died on December 5th 2013 after a long battle with lung infection.
Mandela, an amateur boxer, politician, philanthropist among many other noble titles rose from poverty, and discrimination to defeat white minority rule of apartheid and became the first black South African President in 1994. He won the Nobel Peace Prize in 1993
Mandela made some of his last public appearances during the 2010 World Cup which was held on African soil for the very first time.
Many leading sports stars have paid tribute to Nelson Mandela following the death of the former South African leader at the age of 95.
South African golfer
Gary Player
tweeted: "Nelson Mandela's courage, forgiveness, love & hope inspired people around the world. He made me want to be a better man. RIP Tata."
Three time world heavyeight champion Muhammad Ali paid a special tribute on his website: "What I will remember most about Mr. Mandela is that he was a man whose heart, soul and spirit could not be contained or restrained by racial and economic injustices, metal bars or the burden of hate and revenge."
Jamaica's superstar sprinter Usain Bolt tweeted: "One of the greatest human beings ever. May your soul rest in peace. The world's greatest fighter."
Manchester United defender Rio Ferdinand wrote: "RIP #NelsonMandela - the real inspiration."
Manchester City defender Vincent Kompany said: "RIP Nelson Mandela. No words to describe the goodness you have brought to this world. Sad to see you go. Inspirational, my only ever hero."
Real Madrid star Cristiano Ronaldo offered his tribute, saying: "Thankful Madiba for your legacy and your example. You"ll always stay with us."
Brazil legend Pele: "He was my hero, my friend, and also a companion to me in our fight for the people and for world peace."
President Jacob Zuma said Mandela will be buried on December 15 at his ancestral home in the Eastern Cape. Goodnight Madiba