Thursday, October 24, 2013
Former FIFA EXEC. Amos Adamu's 3-year BAN FROM FIFA ENDS
Posted by

wasaafrica
at 9:00 AM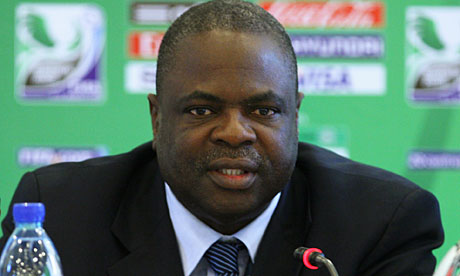 Former FIFA executive committee member Amos Adamu's three-year ban from football has expired. No hard feelings here as Adama states that he holds "no grudge," a day after his three-year ban for seeking bribes to influence World Cup voting expired.
The Nigerian FIFA executive committee member is free to work in football again after the ban ended on Sunday, he stated: "I can only thank God it is over. I hold no grudge against anyone."
Adamu was banned for seeking bribe in return for voting on the 2018 and 2022 World Cup hosting rights. Adamu was one of a number of high-level FIFA officials caught up in corruption allegations around the fiercely-criticized votes that selected Russia and Qatar as hosts of the 2018 and 2022 World Cups, respectively. He was filmed in a British newspaper asking undercover reporters for $800,000. In the video, Adamu was seen asking for the money to be paid to him personally so he could finance football fields in Nigeria.
Following his actions and the evidence present, he was suspended and not allowed to be part of the 2010 votes and was eventually banned for 3 years by FIFA.
In a personal statement, Adamu said: "My interest is not to rush back to the international federations.
"But I am delighted that my ban has expired and I am free to contribute to the development of football and sports generally in Nigeria, Africa and the world at large.
"My focus is different now and those expecting me to rush back to football administration would be disappointed.
"I want to do serious business in sports. I am now a different person. This is the new Amos Adamu - I went through some transformations which have been worthwhile. I am now a different person, wiser than before."