Tuesday, April 30, 2013
Arsenal FC fans Jay-Z and Chris Martin from Coldplay spotted at Emirates Stadium
Posted by

wasaafrica
at 6:16 PM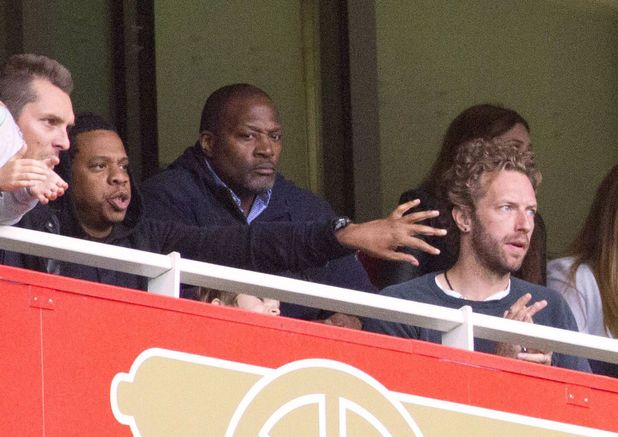 Jay-Z and
Cold play's
Chris Martin watch Arsenal play against Manchester United. The rap mogul and Cold Play lead singer were at Emirates Stadium Sunday to watch their beloved Arsenal play out a 1-1 draw with Manchester United.
These two music star who happen to share an unlikely friendship also have one more thing in common, and that is their love for the Gunners.
For Jay-Z, his allegiance to the north London Club was borne out of admiration for former Arsenal striker Thierry Henry who now plays for the New York Red Bulls. Jay-Z also happens to think Arsenal plays beautifully as he explained in an interview in 2010, he said-"I love all sports, but what I really love is when people play sport in a beautiful way, and that's one thing Arsenal do for sure."
Although Arsenal are by no means guaranteed to qualify for the Champions League this year, with the Gunners currently occupying fourth spot, one point behind Chelsea and two ahead of Tottenham, Jay-Z hinted that he may be interested in investing in the team in the future. The 10-time Grammy award winner said-
"I don't know a lot about the business of soccer, but in the future if the right opportunity presented itself, then who knows?
"I am a businessman, and I will always look at an opportunity, and if it feels right, great."