Saturday, March 9, 2013
Man-U boss Sir Ferguson debunks rumors about Wayne Rooney's exit stating it is 'nonsense'
Posted by

wasaafrica
at 12:08 PM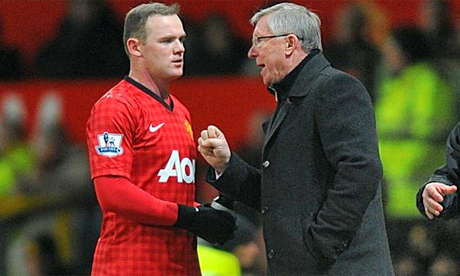 Manchester United manager Sir Alex Ferguson says reports suggesting that Wayne Rooney is on the verge of leaving the club are "absolute nonsense," Ferguson also reveals that he has banned two newspapers from his media conference "until they apologize" for the Rooney story.
Reports of Rooney being sold became viral after Ferguson dropped Rooney to the bench for Tuesday's Champions League second leg tie against Real Madrid.
On Rooney's exit, Ferguson stated-"He will be here next year, you have my word on that. There's absolutely no issue between Wayne Rooney and me, there is absolutely no problem," he said.
Continuing, Ferguson said-"To suggest we don't talk on the training ground is absolute nonsense,"
Speaking to the media for the first time since Nani's sending off in the 3-2 aggregate loss to Real Madrid, Ferguson said: "This is the third time we've been knocked out by the referee's decision; it's not easy to take."