Tuesday, February 19, 2013
Reeva Steenkamp was laid to rest today as Pistorius faces court hearing
Posted by

wasaafrica
at 9:06 AM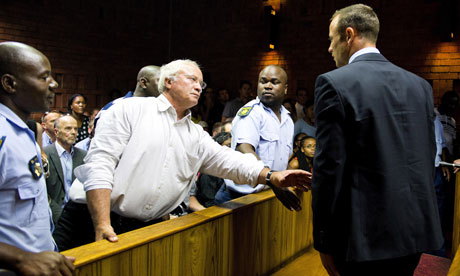 Oscar Pistorius today gave a horrifying account of the night he shot dead his girlfriend claiming he mistook her for a burglar when he woke up in the middle of the night.
The hearing came as the victim's family held a funeral in Port Elizabeth.
Mr Pistorius, who denies murder, told the court through his lawyer: "I had no intention to kill my girlfriend."
In a statement read out to Pretoria magistrates court, the Paralympic star said he had been on the balcony of his house when he heard noises from the bathroom.
Believing Reeva Steenkamp was asleep in bed, he grabbed his gun and shouted a warning before firing four shots through the door, a judge was told. It was then that Pistorius claims that he realised Miss Steenkamp was not in bed.
'I kicked the door open,' he said. 'I tried to help her but she died in my arms.'
Following the private ceremony, the 29-year-old former model's father, Barry Steenkamp, told reporters: "We have to keep Reeva in our hearts forever".
Her brother Adam said there was "a space missing" inside all the people she knew.
The prosecution is pursuing a charge of premeditated murder against the 26-year-old athlete. Pistorious is now spending a sixth night in jail until the hearing begins again tomorrow –
.
Oscar Pistorius could face life in jail if found guilty