Friday, January 11, 2013
FC Barcelona-First in the club world ranking in 2012!
Posted by

wasaafrica
at 6:23 AM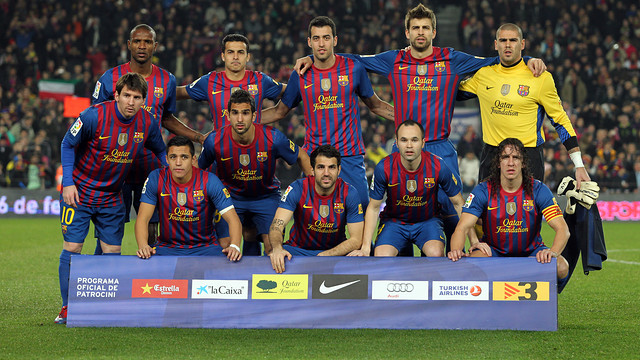 Spanish giants Barcelona top the 2012 club world ranking which is published by the International Federation of Football History & Statistic (IFFHS) with accumulated total of 307 points. Following previous successes in 1997, 2009, and 2011, this new ranking puts Barcelona up as the first club to claim the top spot in 4 different years since the initiation of IFFHS in 1984.
English champions Chelsea follow closely behind as they claim the second spot in the ranking with 279 points. The Blues knocked Barcelona out at the Champions League semi-final stage. There's a third place tie- Brazilian titans Boca Juniors and Europa League holders Atletico Madrid are just 1 point behind Chelsea FC with 278 points putting both teams in the third spot, while Copa Libertadores and FIFA Club World Cup winners Corinthians complete the top five, with 272 points.
Bundesliga runners-up Bayern Munich are at the 6th position with 270 points, while Real Madrid Real Madrid who reclaimed the La Liga title from Barcelona last season sit at number 7 in the ranking with 259 points. At number 8, Juventus came in with 231 points, while current Bundesliga champions Borussia Dortmund claim the 9th position with 226 points. French side Olympique Lyonnais completes the top 10 club ranking as they took the 10th position with 224 points.
Manchester United moved up 3 places from last year as they claim the 27th position with 194 points. And current Premier League champions Manchester City are in the 40th spot with 177 points. Arsenal FC position in the ranking is not very shocking, they are at number 53 on the list with 163 points.
Click below for the full 400 list: